Our selection of low carb and Atkins diet books. Each low carb plan has its own unique differences and approach to weight-loss. It is quite informative to check more than one low carb plan to find the one suitable to YOU.

Discuss this book!
By H. Leighton Steward, Morrison C. Bethea, Sam S. Andrews, Ralph O. Brennan and Luis A. Balart

Sugar Busters! was first independently published in New Orleans and sold an amazing 100,000 copies by word of mouth. Its advice may be hard to swallow for most Americans, as it advocates squelching your sweet tooth in order to lose weight. Those who follow the diet, however, swear by it, and no wonder: excess sugar consumption has been linked to depression, impaired immune function, and, of course, weight gain, as the body can almost effortlessly convert sugar to fat. Because sugar comes in so many different forms and hides out in unexpected places (carrots, beets, and white bread, among others) the authors list what foods are safe and which ones should be avoided and include a two-week menu plan for getting started.


---
Sugar Busters! Quick & Easy Cookbook

By H. Leighton Steward, Morrison C. Bethea, and Luis A. Balart

The Sugar Busters! diet lets you eat just about anything except certain carbohydrates, including refined sugars, red and white potatoes, corn, white rice, highly processed grains, beets, and carrots. This cookbook offers a variety of Sugar Busters!- acceptable recipes, averaging about 40 percent "correct" carbohydrates, 30 percent protein, and 30 percent fat. These recipes won't keep you in the kitchen all day, though most aren't produced in a flash, either. Breakfasts are predominantly egg dishes. Lunches include Stir-Fried Ginger Chicken, Chesapeake Crab Cakes, Whole-Wheat Spaghetti with Olive-Tomato Sauce, Fourth of July Macaroni Salad (colorful with red onions, tomatoes, green bell peppers, and onions), and Bayou Spicy Boiled Shrimp. Dinner entrées emphasize meat, fish, and poultry, with some regional and international dishes.
---
Sugar Bust for Life: With the Brennans Part II

By Ellen C. Brennan, and Theodore M. Brennan

Ellen and Ted Brennan, of Brennan's Restaurant in New Orleans, share with you some of the restaurant's gastronomic secrets so that you may recreate these very dishes in your own kitchen as you Sugar Bust for Life! Ellen and Ted have adapted Brennan's recipes to a low sugar lifestyle by eliminating all high glycemic carbohydrates and refined sugar, while still maintaining quality and taste.
---
Sugar Bust for Life: With the Brennans Part II

By Ellen C. Brennan, and Theodore M. Brennan

A cookbook and companion guide based on the diet principles found in Sugar Busters! . Ellen C. Brennan and Theodore Brennan of the world famous "Brennan's Restaurant in New Orleans" and co-authors of the best selling cookbook Sugar Bust for Life with the Brennans Part I have included over 300 new recipes here, easy one-dish meals, an updated Shoppers Brand Name Guide, new menus and an extensive wine list, plus weight loss and good health "tips for success."
Starch Madness: Paleolithic Nutrition for Today
By Richard L. Heinrich

Starch Madness offers healthy eating guidelines that really work! By eating enough protein and choosing foods that balance our blood sugar, we can eliminate the urge to overeat. Also, by limiting the amount of sugar and certain carbohydrates in our diets we can significantly reduce heart disease, high blood pressure, and many other serious illnesses. Water is another element our modern bodies lack. Over-the-counter drugs are being used for many conditions that can be alleviated by drinking more water.


---
Sugar Blues
By William Dufty

The classic, best-selling exposé on the dangers of sugar reveals how this commonly ingested ingredient in countless foods is highly addictive and causes a host of medical problems from depression to coronary thrombosis.

This book shows that numerous ills of refined sugar (sucrose). It is an extremely important book because it represents the first step in a realization that sucrose is much worse for you than the billion-dollar sugar industry wants you to believe. There are very important statistics and valid points hidden among this text. In Sugar Blues, William Dufty doesn't just lift the historical mask on sugar, he pulverizes it.


---
Lick the Sugar Habit
By Nancy Appleton

There's the old saying that sugar is poison. After reading Lick the Sugar Habit, you'll be convinced of that. Americans each consume more than 150 pounds of sugar and related sweeteners each year. It's pretty easy for it to add up when you consider that there are 17 teaspoons of sugar in a single can of Coke. Author Nancy Appleton delineates how this sugar overconsumption wreaks havoc with our immune and endocrine systems, leading to chronic conditions including arthritis, osteoporosis, diabetes, asthma, and hypoglycemia, along with the usual suspects such as cavities and periodontal disease. Appleton admits that she herself used to be a sugar addict, preferring to take her sweets in the form of chocolate, and consequently suffered from numerous allergies, plus bronchitis, pneumonia, and even a chest tumor that turned out to be a huge calcium deposit that resulted from her body's inability to process the pounds of sugar she consumed.


---
Sweet Poison: One Woman's Tragic Experience With Diet Sweetner
How the World's Most Popular Artificial Sweetener Is Killing Us
By Janet Starr Hull

After a personal illness caused by the artificial sweetener aspartame found in NutraSweet/Equal, Hull exposes the hidden truths behind the dangers of this popular sugar-substitute. Don't pick up another diet drink sweetened with NutraSweet until you have read her riveting story.


---
Deadly Deception: Story of Aspartame
Shocking Expose of the World's Most Controversial Sweetener
By Mary Nash Stoddard

What you and your Doctor don't know about Aspartame could fill a book - and it has! Get the facts about Aspartame also known as (NutraSweet/Equal) in Stoddard's hard-hitting 200 page report. Deadly Deception - Story of Aspartame is a serious look at this issue and could save your life or that of someone you love. Author, Mary Nash Stoddard, Founder of the world's massive anti-aspartame consumer movement and Director of Aspartame Consumer Safety Network since 1987, has been featured in print and electronic news stories around the world and is a favorite guest/resource of talk show hosts and producers.
Paperback /

---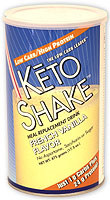 Keto Shake
---