Our selection of low carb and Atkins diet books. Each low carb plan has its own unique differences and approach to weight-loss. It is quite informative to check more than one low carb plan to find the one suitable to YOU.

Discuss this book!
Dr. Bernstein's Diabetes Solution
A Complete Guide to Achieving Normal Blood Sugars

by Richard K. Bernstein MD, Richard K. Bernstein, Timothy J. Aubert, Frank Vinicor

Bernstein has had type I (juvenile or insulin-dependent) diabetes for 50 years and has become well known for his unconventional approach to treating both types of the disease. His emphases on almost hour-by-hour normalization of blood sugar and a diet consisting of nearly no carbohydrates and high levels of fat and protein have certainly educed two results: they have alienated many other diabetes specialists and required Bernstein's patients to be meticulous in self-managing their disease. Bernstein begins with some successful case histories, proceeds to basic backgrounding on diabetes, and then describes his treatment plan in considerable detail. He discusses diet, types of insulin and their uses, and the importance of establishing a close relationship with one's physician. He encourages his patients to make frequent visits to his office, makes himself available by phone virtually round the clock, and here includes five appendixes of data and exposition to help patients align their physicians' thinking with his.
William Beatty


---
The Schwarzbein Principle : The Truth About Losing Weight, Being Healthy, and Feeling Younger

by Diana Schwarzbein (Introduction), Nancy Deville


From her work with insulin-resistant patients with Type II diabetes, Dr. Schwarzbein concludes that low-fat diets cause heart attacks, eating fat makes you lose body fat, and it's important to eat high-cholesterol foods every day. Picture cardiologists and dieticians tearing their hair out and overweight people cheering as they dive into Eggs Benedict with sausage.

According to Schwarzbein, the high-carbohydrate, low-fat, moderate-protein diet that most dieticians and disease-prevention organizations recommend is the culprit that turns people into diabetics, makes them age faster and get degenerative diseases, and keeps them fat and unhealthy. She supports her theory with case studies of people who were sick and miserable on high-carbo, low-fat diets and who sprang to life when they "balanced" their diets with more fat and protein.



---
Type II Diabetes Diet Book
Your Fat Can Make You Thin
By Robert E. Kowalski and Calvin Ezrin, MD.

Proven to be remarkably effective for both Type II diabetics and nondiabetic people with chronic weight problems, the Insulin Control Diet -- based on low-carbohydrate and low-caloric intake -- allows patients to decrease insulin production and convert stored fat into fuel. In this new edition, Dr. Calvin Ezrin provides updated ADA recommendations and complete section of revised recipes and meal plans.
Previously entitled The Endocrine Control Diet, this new edition provides updated ADA recommendations and a complete section of revised recipes...shows how both diabetics and nondiabetics can limit insulin production to lose weight.


---
Beat Diabetes!
How I Overcame Diabetes and You Can Too!
By Margaret Blackstone

This book is one woman's story of beating a disease that will affect one in ten Americans by the year 2000. Following the program found in this book - a low carbohydrate, yet flavorful and exciting diet - may help readers prevent the consequences of diabetes and prevent the onset for those at risk.


---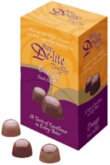 Chocolate Truffles
---