Carb-Counter in a your pocket: The NutriCounter has over 2,000 food items stored in memory. You can call up foods that you eat and save the nutritional information into daily totals for each of the nine nutritional categories. You always know at a glance how many calories, fats, carbohydrates etc. you have eaten at any time of the day. The daily totals (for the last 30 days) are stored into memory and are available at the touch of a button. Monitoring food intake has long been the choice of physicians and health professionals worldwide for weight loss and maintaining peak overall health. The NutriCounter makes this process a snap. No more journals or log keeping with a pen, paper, and books. With the added features such as AVERAGE, GOAL, BALANCE, and NEW the NutriCounter is quickly becoming the industry standard.

FatTrack Computerized Body Fat Calipers
Now You Can Easily Monitor Your Body Fat Levels With Computerized Digital Accuracy
Digital Technology
Ultra-Accurate
Convenient
State-of-the Art
Building muscle is one thing, but building solid, lean, fat free muscle is quite another. You have to train right, you have to eat right, and you have to make sure you are supplementing correctly. But even with all this covered you need an accurate way to measure just how well your program is working. Sure the scale might be going up, but is the majority of weight you are gaining muscle?
Now there is a new state of the art way to monitor your lean mass and body fat levels accurately and conveniently. It's called FatTrack and it's absolutely awesome.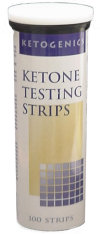 Ketogenics' Ketone Strips

A convenient way of testing for ketone body spill over, an indicator for people on low carb diets that they have entered a state of fat burning as lipolysis.
Can pinpoint a problem for people who are not responding to (low carb, ketogenic) diet.
Serves as a motivational tool by showing tangible evidence of diet success.