Atkins and low carb diet products shopping guide. While all you need to low carb is your local grocery store, when you miss high carb foods, try these low carb foods and substitutes to curb those carb cravings.
Atkins Basic #3
This comprehensive 30+ ingredient formula is the basic building block for the Atkins Diet and also enhances fat-burning. It provides a broad spectrum of key vita-nutrients found in many multi-vitamins, but it also helps keep your cravings under control, supports muscle growth, speeds up fat-loss, and even keeps your body continually cleansed of free radicals and other toxins produced during weight loss.US$32.95
TwinLab Daily One
TwinLab Daily One capsules are easier to swallow

and assimilate. Well tolerated by most highly allergic individuals. No tablet binders, coatings or colorings. Free of the most common allergens such as yeast, rice, barley, wheat, lactose (milk sugar) and all milk, citrus, fish and egg products. No added flavorings, sugars, salt, artificial sweeteners, colorings, preservatives or salicylates.US$12.95

Chromium Picolinate
CHROMIUM PICOLINATE, HIGH POTENCY contains 200 mcg of Chromium Picolinate.
Chromium is an essential mineral that helps maintain stable blood sugar levels and assists in the metabolism of carbohydrates, proteins and fats. Optimum Nutrition uses 100% pure pharmaceutical grade Chromium Picolinate.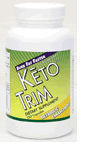 Keto Trim
Support Healthy Metabolic Fat Burning Without Side Effects!
KETO Trim can be especially valuable for those who easily put on weight and have difficulty burning it off. That's because it provides your body with nutrients it can use to help liberate fat cells, while supporting healthy metabolism. Unlike typical fat burners, KETO Trim is designed to enhance normal fat burning without side effects, such as nervousness and insomnia. Contains citrus aurantium (bitter orange 4% amines), usnea lichen, Korean and Siberian ginseng plus adrenal support factors. Does not contain ephedra herb.
---

Keto Bread
---