LC Sponge's Story
By LC Sponge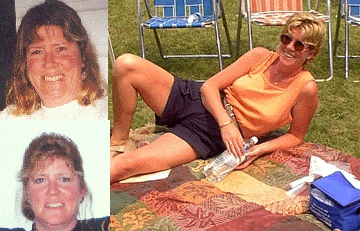 I am not a long-term dieter, I have never had an ongoing weight problem. Tall, slim and small boned was my *look* until at 37 years old, I quit smoking, and married a chef all in one felled swoop.
My chef husband says "I love you" with food. Refuse the meal, and risk shrugging off the expression of love. Being loved in this way, felt good since I no longer had cigarettes to comfort me. And I could taste food again - imagine my surprise at just HOW good it tasted!
My chef husband was also a low-fat dieter. A big advocate of processed foods like "no-fat everythings". I was trapped in the valley of lite-mayonnaise, mountains of pasta and tubs of margarine. I kept a bottle of TUMS in the car, beside the bed, at work, in my purse.... I worked very hard on low-fat dieting in support of my new husband.
Stand back and watch me go from a size 9-10 (at 5'8")to bigger than an 18 in a few short years. All my life I'd been told "you're too thin" by many many people, and so I believed that a gain wasn't going to be such a bad thing. But my healthy gain got to be so I couldn't bend down and straighten back up without having something to grab hold of. My back hurt constantly and so did my knees. I was out of breath all the time. People were asking me when I was "due". My 18's got tight. I saw pictures of myself and I wasn't pleased.
Then when I tipped the scales at 184 (from 139) I realized I had to do something. If I didn't, I was going to weigh in at 200 pounds - no question. Right about the same time, my neighbour mentioned Atkins - she'd lost 14 pounds in about 2 weeks eating steak smeared with butter. Within a couple of hours I had the book (DANDR) and was making resolutions, I was worshiping the low-carb God with almost no question. It just *felt* so right.
I stuck with Dr Atkins through hair loss, constipation, plateaus and stalls. It didn't take as long to lose the weight as it did to put it on, but it took long enough. Early on, my dh had to adjust his thinking (and meal preparation) around my *new* needs. And it was quite an adjustment for him. I had to stand my ground and dig in my heels when he served a soup thickened with potato. I just wouldn't eat it. Like the spouse who loses a drinking partner to the clutches of AA, my dh felt he'd lost his *dining* partner. He adjusted. He rose to the challenge of my dietary needs. He cooks me low carb. And he does a fine job.
Now, at 21 months of low-carbing not only am I at a manageable and *good looking* weight - I am running up to 5k and hiking 10k over rough country. My aches and pains are gone. I don't eat TUMS anymore. I also have RLS (restless leg syndrome) and even that gives me minimal problems now. People tell me I look great and nobody thinks I'm pregnant. What a miracle.
Like I said I'm not a yo-yo dieter, it only took once for me to fully understand what happens when you aren't paying attention. It took only once to understand that as we age our bodies handle foods differently, our metabolism ages too. I won't gain it back, I have my lifetime goal set now, and I will stay in that range.
In my lifetime I quit smoking twice. And after having to quit the second time, I realized that anything difficult isn't worth doing twice, when you only really had to do it once. Life is WAY to short to keep going down the same roads where the scenery never changes.