Tinakaye's low carb journey.
I wanted to make this page especially for all the women and men over at alt.support.diet.low-carb which is a low carb newsgroup where recipes and encouragement can strengthen even the weakest of souls.
I had a hard time finding a "before" picture as I shred every fat picture of myself that I can get my hands on! This picture here I was about 203 pds and a size 18. And I can't believe im putting it on the web! Okay, everyone said the blond photos didn't show enough of me so....... OH MY GOSH I'll put up one with dark hair and before I got contacts and met L'Oreal :) This is bad, very very bad!!
Iv been on Atkins diet off and on for the last 10 years. But let me tell you I was doing it all wrong. I looked at it solely has a diet, not as a way of life eating plan. So every time I would lose the weight, I would go off the "diet" and gain the weight right back. The next picture is from March and Im guessing im about 160lbs.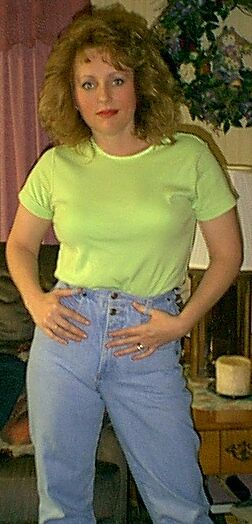 Due to the encouragement and support of the lowcarb newsgroup I have learned so many things that enable me to know that I will not fail nor give up this way of eating plan that is now for life. My goal is to lose about 15 more pounds. and then to maintain it for the rest of my life. I lose very very slowly now. Maybe a pound or two a month. But its a race I will win with not speed but perseverance. Thanks again to all my friend for there help and especially their recipes! :)
Below is my picture I took from July. lol of course my hair is even blonder now and I got it cut abit differently. It seems when your changing your body, you also have to change your clothes, hair style and color :) Iv only lost one more pound in the last month, it sure is coming off slow, but hey its coming off right? :)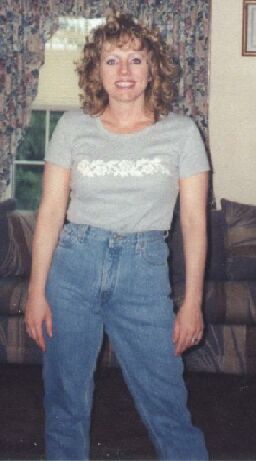 Tina 140 pounds
Okay another update, this photo is from Nov 3rd. So has you can do the math in the past 4 months Iv only lost 4 more pounds, but have joined a local gym at the end of September. I wasn't going to update again just for 4 pounds but after comparing the pictures I think iv lost quite a few more inches and I love to weight train now! Special thanks to my "trainer" Anna :)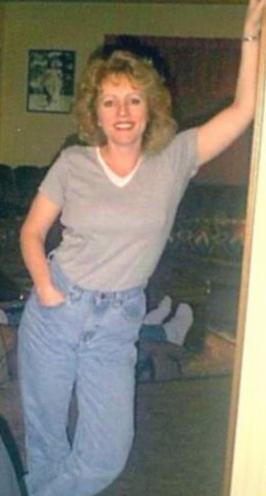 Tina 136lbs
Okay yet another update. As of Dec 27 2001 I have reached 130 pounds and 21% BF. Got to say im very pleased with my progress as of late. And now its 73 pounds of fat gone! My son Trev wanted me to include his picture as well since he is my official scrambled egg cook :)
Just a short update as of Feb 17th 2001 I hit 128 so Im finally at GOAL!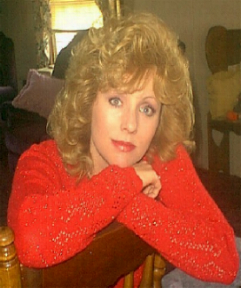 Feb 19 2001